UConn Defensive Backs Display Impressive Athleticism at Pro Day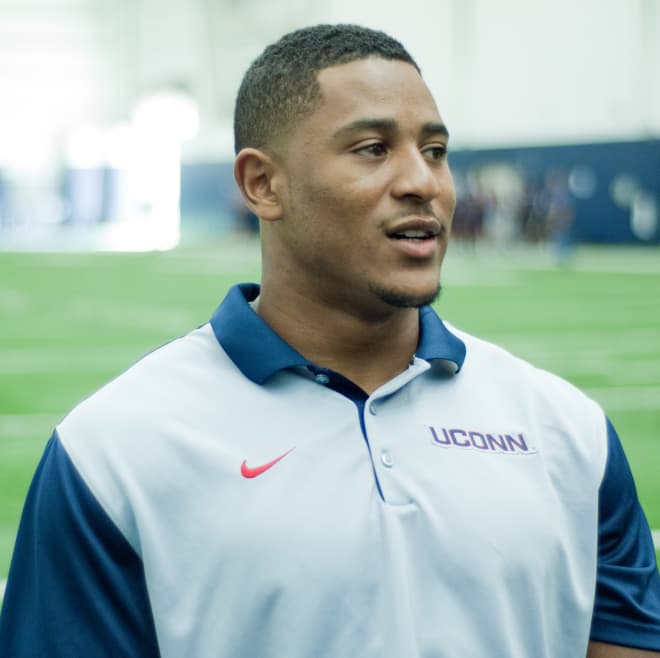 Now that the UConn Husky Pro Day has come and gone, it is time to consider who the winners and losers were from the day's events.
Most prominently, backup safety Junior Lee never was able to break into the Huskies' starting lineup thanks to the stellar combination of Obi Melifonwu and Andrew Adams prowling in the back seven of Anthony Poindexter's defense. However, he did get time on the field in special teams and as a third safety where he thrived, earning opportunities in man coverage and helping to solidify the Husky nickel package. Now, thanks to a solid pro day, Lee should be able to garner some looks from NFL teams.
Lee had a phenomenal day, running 4.50 in the 40-yard dash and doing well in the vertical jump (37 inches) and the broad jump (10 feet, 6 inches). Had Lee gone to the Combine, he would have had the third fastest 40, fifth best vertical, and fourth best broad jump of any safety. Those numbers will force teams to take a second look at him, and he could parlay his strong Tuesday performance into a camp invite come the summertime.
Andrew Adams was the more game-tested of the two safeties, but his physical ability is not quite up to Lee's standard. He jumped 9 feet, 10 inches in the broad jump, 32 inches in the vertical jump and ran a 4.53 40. However, Adams did showcase solid functional strength, throwing up 24 reps of 225 pounds in the weight room. This number would have been the best of any defensive back invited to the Combine. Adams played both slot cornerback and safety at Connecticut, and he has the skills to make some team very happy if he gets an NFL shot. It remains to be seen if someone will take a shot on him, but he did enough this afternoon to earn a chance at the very least.
The other star of the day's events was defensive end Kenton Adeyemi, who ran a 4.9 40 and jumped reasonably well (31 inch vertical, 9 foot 5 inch broad jump). While these numbers were not quite up to par with the elite Combine athletes, they were middle of the pack, and this performance paired with his on-field tape should be enough to get Adeyemi a camp invite. He has a chance to squeeze onto a 53 man roster if he can prove his stoutness as an edge player in the dry heat of summer.
Other ex-Huskies did not show much at the Pro Day. Julian Campenni and Tyler Samra benched but did no other measurable drills, and Graham Stewart injured himself running his 40-yard dash.
Marqise Vann was the biggest disappointment, a 220-pound linebacker needs to run faster than 4.72 in the 40 yard dash. Vann has ability, but he may not be an NFL level athlete.
Finally, Max DeLorenzo had a surprisingly nice afternoon, putting up some good numbers including a 6.96 three-cone drill. Perhaps the under-utilized Husky running back can find a role at the next level as a change of pace back. At the very least, on a day made to rule out those that are not NFL caliber athletes, DeLorenzo proved that he deserves an opportunity to prove himself at the next level.