Notes & Quotes: UConn Over Tulsa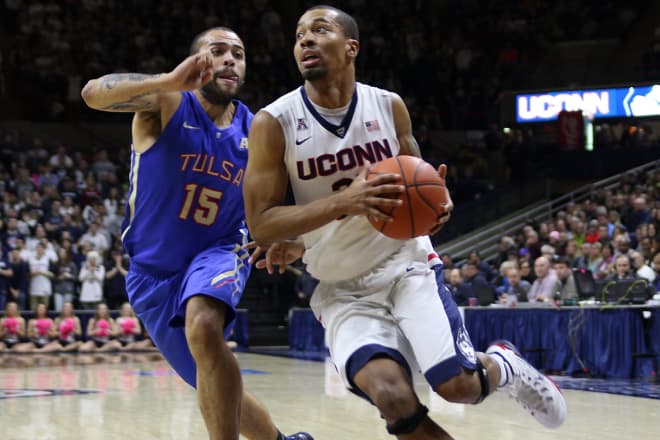 STORRS, Conn. - Sterling Gibbs called the game "life or death." The UConn Huskies had to fight to the very end to fend off Tulsa 75-73 Saturday night in front of 10,167 fans at Gampel Pavilion.
UConn (18-7, 8-4 American Athletic Conference) moved into a half-game ahead of the Golden Hurricanes (16-9, 8-5) for fourth place in the standings.
Five Huskies scored in double figures with Omar Calhoun and Sterling Gibbs each having 14. Daniel Hamilton added 12, Purvis had 11 and Shonn Miller with 10. Purvis scored his 1,000th point with a 3-pointer in the first half.
WHAT WENT WELL
1. HANGING ON BY THE SKIN OF THEIR TEETH: Squandering second-half leads have become an issue for the Huskies, but this time they managed to squeak by after being up 20 points with 17:10 to play. Freshman Jalen Adams made a huge rebound following a Purvis missed 3-pointer with 1:09 left and UConn up 67-64. It led to a running one-handed jumper by Purvis to make it a five-point game and the Huskies closed things out with a 6-for-6 finish at the foul line. UConn is now 3-5 in games decided by five points or less.
UCONN COACH KEIN OLLIE'S TAKE: "I like how the guys stood up. I'd like to have won by 30, but if you are in that situation you have to relax because you can't control what's going to happen. But you can control how you are going to respond and that's what I am trying to teach these guys. … Yeah, they came back in the second half, but the guys stayed together. They could have easily folded, but they stayed together – that's what I love about them. I going to see the guys who have the heart for UConn and not for themselves, and those are the guys I'm going to go with."

2. THE BIG O MAKES THEM GO: Calhoun, starting in just his second game of the season, had the hot hand with a 5-for-8 night from the field, including 4-for-6 on 3-pointers. Ollie said it was "team things" that led to Calhoun starting in place of Adams, who also sat almost the first 18 minutes of the second half against Temple for a similar reason.
Overall, the Huskies thrived on the perimeter (11-for-24) with Purvis going 3-for-5 and Gibbs and Hamilton each adding a pair. With Amida and Miller in foul trouble, the guards needed to step up and did.
CALHOUN'S TAKE: "I felt good out there. Everyone was finding me and I was moving good without the ball. Just staying in the gym that's the reason I made shots today and hopefully I continue to do the same thing."

3. BETTER AT THE LINE: The Huskies were almost perfect at the foul line, making 10-of-11, but they were also fortunate Tulsa made just 14 of 25 at the line.
GIBBS' TAKE: "Every good team makes a run. They made their run late in the game and we withheld it but at the same time, we got to get better."
WHAT NEEDS WORK
1. KEEP THE PEDAL TO THE METAL: An easy night got much harder after the Huskies struggled to stop Pat Birt II (24 points) in the second half. The Tulsa guard, who was saddled with foul trouble in the first half, was blistering hot, making 7 of 11 shots and 5-for-7 on 3-pointers to direct the Golden Hurricanes' comeback. Tulsa shot 60 percent in the half and scored 52 points – the most UConn has allowed in a half all season.
HAMILTON'S TAKE: "When we have our foot on someone's next we have to keep punishing them. I think we took our foot off the gas today."
2. NOT MILLER'S TIME: The fifth-year senior can't seem to catch a break when it comes to officials this season. Miller found himself in foul trouble in both halves, plus also struggled to get any calls his way – he was just 2-for-2 on the foul line. Miller has scored in double figures in 19 straight games.
Additionally, Amida Brimah also was foul plagued in the first half and a non-factor in the game: two points, two rebounds and one block in 16 minutes.
GIBBS' TAKE: "With him being in foul trouble and being out for as little bit, we knew the game was pretty much kind of life or death, so we had to make sure that we kind of got it together."
NOTES: Sam Cassell Jr. missed his third start game with shin splints. .. UConn is 1-4 against the top four teams in the conference. … Caron Butler was inducted into the Huskies of Honor at UConn's Saturday game against Tulsa. He is the 24th member. "That was extremely emotional right there," said Butler, who attended the game with his family. "I didn't know (Jim) Calhoun was going to be here." … The Maui Invitational delivered an eight-foot, hand-crafted, custom-made surfboard to the Huskies to celebrate their appearance in the 2016 Tournament in Hawaii. In addition, to UConn, Chaminade, Oklahoma State, Oregon, Georgetown, Tennessee, North Carolina and Wisconsin are in the field. The Huskies have appeared in the Maui Invitational four times, winning in 2005 and 2010, and are 8-1 there all-time. … Outgoing AD Warde Manuel attended the game.
UP NEXT
Thursday, No. 16 SMU at XL Center in Hartford, 8 p.m. (ESPN2)